"The devil jumped into her mouth. Don't show the devil jumping into her mouth."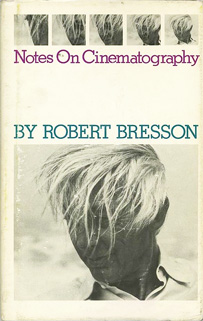 That's the way I remembered it.
I was editing a project where images needed to match the words in the narration. It seemed unnecessary. Besides, I didn't have enough images. That's when that quote, as I remembered it, popped into my head.
I bought my first copy of Notes on Cinematography by Robert Bresson in 1979. Soon after, I gave it to a friend who, in my opinion, needed to own that book. I bought a fresh copy for myself but not long after I gave it to another friend. A pattern was emerging. It happened every few years.
In 1997 Green Integer published a pocket size edition. It was Green Integer 2. A new translation. The title was now Notes on the Cinematographer. I bought two copies. A year or so later another two copies. One was a Christmas present.
When the quote, as I remembered it, popped into my head last week I didn't currently own a copy of the book. I wasn't surprised to not find it in bookstores but it wasn't until I checked Amazon and saw that used copies were going for over a hundred bucks that I realised … it was out of print.
I thought it would always be there when I needed it.
"The devil hopped into his mouth"; don't have a devil hop into a mouth. "All husbands are ugly": don't show a multitude of ugly husbands.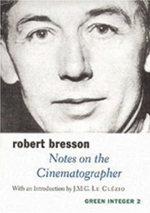 There is some light in the darkness. You can find a PDF of Notes on Cinematography on the internet.
I have one here and you can and should download it. It's the last time I'm giving a copy to a friend.
I'm trying to romanticize file sharing. Is it working?
Let nothing be changed and all be different.